List of rolling marks on reinforcing steels
List of rolling marks on reinforcing steels
Share this page with Linkedin:
Warning
The following is only informative. It enables the reader to guide its searching. Any information got here should be verified by questioning the concerned producer.
Some factories may not exist any more. Corresponding rolling marks are kept in the list to facilitate identification of old steels.
Two main types of identification procedures exist: European way, which consists in a sequence of numbers and North american. Other identifications also exist but are not driven by a fixed procedure.
If you are aware of any other mark, existing of having existed, any other website providing a list including rolling marks please advise us.
European procedure
The European procedure is made of a sequence of figures:
a beginning of sequence: number "0" (against EN 10080 standard), or dot-dash-dot when the steel is CARES certified,
a number providing the country of manufacturing of the steel (see here after),
a number made of one or two figures, to identify the factory.
List of codes per country:
| | |
| --- | --- |
| Code | Countries |
| 1 | Austria, Czech republik, Germany, Poland, Slovakia |
| 2 | Belgium, Luxemburg, Netherlands, Switzerland |
| 3 | France, Hungary |
| 4 | Italy, Malta, Slovenia |
| 5 | Ireland, United Kingdom |
| 6 | Denmark, Finland, Estonia, Iceland, Latvia, Lithuania, Norway, Sweden |
| 7 | Portugal, Spain |
| 8 | Cyprus, Greece |
| 9 | Other countries |
Figures are determined in one of the following manners:
count the number of normal ribs between enlarged or missing ribs or dots,
figure rolled onto the steel.
See an example of counting normal ribs between enlarged ribs:

For indented steels, the same procedure applies, replacing ribs by protrusions between indentations.
See here after an informative list of existing rolling marks (identification of the country is made with the ISO 3166-1 codes).
Informative list of rolling marks on reinforcing steels
| | | | |
| --- | --- | --- | --- |
| Producer | Factory | Country | Rolling mark |
| MARIENHÜTTE | Graz | AT | 3 |
| AVI | Raaba | AT | 5 |
| BSTG | Linz | AT | 6 |
| ARI | Parmdorf | AT | 8 |
| Franz Burkhard's Söhne | Ternitz | AT | 10 |
| FERRIERA PONTE CHIESE | Prevalle | IT | 0-4-4-0 |
| SIDER SIPE | Catania | IT | 1-0-0 |
| FAR SUD | Casoria | IT | 1-0-0-1 |
| STAHLWERK ANNAHUTE | Hammerau | DE | 1-1-2 |
| Costruzioni Meccaniche Lavenone | Lavenone | IT | 1-1-2-5 |
| WDI Baustahl | Biebesheim | DE | 1-1-5 |
| ArcelorMittal | Ostrava | CZ | 1-1-5 |
| Brandenburger Elektrostahlwerke GmbH (B.E.S | Brandenburg | DE | 1-1-6 |
| Blähton Fertigteilwerke | Neubrandenburg | DE | 1-1-7 |
| CELSA | Ostrowiec | PL | 1-1-7 |
| BSTG | Aalen | DE | 1-1-8 |
| MITTAL STEEL HAMBURG | Hamburg | DE | 1-1-8 |
| HES | Henningsdorf | DE | 1-1-9 |
| B.S.W. | Kehl | DE | 1-2-1 |
| LECH STAHLWERKE GmbH | Meitingen | DE | 1-2-2 |
| HBS | Hattersheim | DE | 1-2-3 |
| TRIERER STAHLWERK GmbH | Trier | DE | 1-2-4 |
| WDI Baustahl | Salzgitter | DE | 1-2-4 |
| ZWM | Slawkow | PL | 1-2-5 |
| ELBE STAHLWERKE FERALPI | Riesa | DE | 1-2-6 |
| SBS | Glaubitz | DE | 1-2-8 |
| WDI Baustahl | Rothenburg/Saale | DE | 1-2-9 |
| FERRIERA SIDERUMBRA | Attigliano | IT | 1-3-1 |
| BBS | Dinkelscherben | DE | 1-3-2 |
| TRIERER STAHLWERK GmbH | Trier | DE | 1-3-4 |
| BESTA | Lübbecke | DE | 1-3-5 |
| RIVA STAHL | Lampertheim | DE | 1-3-9 |
| ArcelorMittal | Warszawa | PL | 1-4-2 |
| TRAFILERIE FRATELLI FRIGERIO | Pare di Valmadrera | IT | 1-5-7 |
| B.D.W. | Kehl | DE | 1-5-8 |
| Rekers Betonwerk | Spelle | DE | 1-5-9 |
| Wilhem Schwarz | Schlüsselfeld | DE | 1-6-5 |
| DRAHTWERK HORATH | Horath | DE | 1-6-6 |
| DWP | Plochingen | DE | 1-7-8 |
| WDI Baustahl | Büdelsdorf | DE | 1-8-6 |
| HENNINGSDORFER ELEKTROSTAHLWERKE | Henningsdorf | DE | 1-9 |
| TEUBAU | Bad Essen | DE | 1-9-1 |
| LA VENETA RETI | Loreggia | IT | 1-9-2 |
| BSTG | Finsterwalde | DE | 1-9-7 |
| FERRIERA VALSABBIA | Sabbio Chiese | IT | 1-9-8 |
| THY-MARCINELLE | Charleroi | BE | 2-1-5 |
| Stahl Gerlafingen A.G. ( S.G. | Gerlafingen | CH | 2-1-7 |
| VAN MERKSTEIJN B.V. | Almelo | NL | 2-2-1 |
| INTERSIG | Dendermonde | BE | 2-3-1 |
| VAN MEIRVENNE | Beveren | BE | 2-3-3 |
| TREF. DE FONTAINE L'EVEQUE | Fontaine l'Evêque | BE | 2-4-1 |
| O.R.I. MARTIN | Ceprano | IT | 2-4-1-10 |
| STAINLESS BARS | Stabio | CH | 2-4-4 |
| DUBAERE | Meulebeke | BE | 2-4-6 |
| Trefil Bouwstaal | Roermond | NL | 2-7-1 |
| Thibo Bouwstaal BV | Beek en Donk | NL | 2-8-1 |
| BOONS & ZONEN | Antwerpen | BE | 2-8-3 |
| ZND Draad B.V. | Valkenswaard | NL | 2-8-4 |
| ARES | Rodange | LU | 2-9 |
| ALPA | Gargenville | FR | 3-1 |
| F L B S.A.S. | Breteuil sur Iton | FR | 3-1-1 |
| SERMETAL | Le Port | FR | 3-1-2 |
| BIOMETAL | Lamentin | FR | 3-1-3 |
| TREFILERIE D'ACIER DE BRETAGNE | Chateaubourg | FR | 3-1-4 |
| ARMASUD REUNION | Saint-Pierre | FR | 3-1-5 |
| SAM | Montereau-Fault-Yonne | FR | 3-2 |
| SITAC | Bonnières sur Seine | FR | 3-2-1 |
| INTERSIG France | Saint-Pourçain | FR | 3-2-2 |
| SITAC | Avermes | FR | 3-2-2 |
| FIMUREX | Villers cotterets | FR | 3-2-6 |
| EURARMA | Louviers | FR | 3-2-7 |
| CODIMETAL | Quinta do Anjo | PT | 3-3 |
| SAM | Neuves-Maisons | FR | 3-3 |
| ACOR | Vauvert | FR | 3-3-1 |
| BIOMETAL | Le Robert | FR | 3-3-8 |
| MAYOTTE ARMATURE INDUSTIRE | Longoni | FR | 3-4 |
| LIB INDUSTRIES | Remoulins | FR | 3-4-1 |
| ACOR | St Just St Rambert | FR | 3-4-2 |
| ACAIL | Souto VFR | PT | 3-5 |
| STARCO | Vix | FR | 3-5 |
| ACOR | Neuves-Maisons | FR | 3-5-4 |
| LE FER A BETON | Yutz | FR | 3-5-7 |
| ACOR | Creil | FR | 3-6 |
| SOCITREL | SaoRomao Coronado | PT | 3-6 |
| SOTRALENTZ CONSTRUCTION | Drulingen | FR | 3-7-6 |
| FIMUREX | Rives sur Fure | FR | 3-8 |
| FIMUREX | Creil | FR | 3-8-1 |
| FIMUREX | Domène | FR | 3-8-2 |
| FIMUREX | Woippy | FR | 3-8-3 |
| FIMUREX | Fos sur Mer | FR | 3-8-5 |
| ARMEX | Bessines sur Gartempe | FR | 3-8-6 |
| INTERCHAPA | Agueda | PT | 3-9 |
| ITON SEINE | Bonnières | FR | 3-9 |
| NUOVA SUPERSOLAIO | Lonato | IT | 4-1-1 |
| LEALI LUIGI SPA | Roé Volciano | IT | 4-1-5 |
| FERRIERA VALSABBIA | Odolo | IT | 4-1-9 |
| FERRIERA VALSABBIA | Prevalle | IT | 4-1-9 |
| Acciairie Venete | Padova | IT | 4-2-1 |
| IRO | Odolo | IT | 4-2-3 |
| Acciairie di Sicilia | Catania | IT | 4-2-5 |
| EREDI BELLINI STEFANO | Pisogne | IT | 4-2-5 |
| ALFA ACCIAI | San Polo | IT | 4-2-6 |
| ALFA DERIVATI | Ozzano Taro | IT | 4-2-7 |
| RIVA ACCIAIO | Lesegno | IT | 4-3-5 |
| RIVA ACCIAIO | Annone Brianza | IT | 4-4 |
| Cogne Acciai | Aosta | IT | 4-4-4 |
| PIGAZZI RETI | Corte Nova | IT | 4-4-4 |
| STEFANA | Ospitaletto | IT | 4-4-4 |
| STEFANA | Ospitaletto | IT | 4-4-5 |
| DELL'AGLIO SILVIO | Novagli di Montichiari | IT | 4-4-6 |
| FERALPI | Lonato | IT | 4-5 |
| DIEFFE | Pomezia | IT | 4-5-.. |
| IMI SUD LAMINATI | Casoria | IT | 4-6 |
| FERRIERE NORD | Osoppo | IT | 4-7 |
| FERRIERE NORD | Potenza | IT | 4-7 |
| FERRIERE BELLICINI | Berzo Inferiore | IT | 4-8 |
| RIVA ACCIAIO | Verona | IT | 4-9 |
| UNIFER | Villanova sull'Arda | IT | 4-9 |
| CELSA | Lichfield | UK | 5-1 |
| CELSA | Cardiff | UK | 5-1-2 |
| Alphasteel | | UK | 5-1-5 |
| BRC | Mansfield | UK | 5-2-3 |
| BRC | Newport | UK | 5-2-4 |
| BRC | Newhouse | UK | 5-2-5 |
| BRC McMahon Cookstown | Tyrone | UK | 5-2-6 |
| ArcelorMittal Kent Wire | Chatham | UK | 5-4 |
| Hyten Reinforcement Ltd | Bootle | UK | 5-5 |
| BRC | Barnsley | UK | 5-6 |
| BRC | Tipperary | IE | 5-7 |
| MET Steel Limited | Newtownabbey | UK | 5-8 |
| Bromford Iron and Steel | West Bromwich | UK | 5-9 |
| PINTOS | Eura | FI | 6-1-2 |
| CELSA | Mo I Rana | NO | 6-1-5 |
| PINTOS | Lappi | FI | 6-2-2 |
| CELSA NORDIC | Halmstad | SE | 6-3 |
| POLARKUDOS | Pälkäne | FI | 6-3-2 |
| CELSA NORDIC | Oslo | NO | 6-4 |
| RÄMÖ | Imatra | FI | 6-4-2 |
| CELSA | Mo I Rana | NO | 6-5 |
| KOSKENSAAREN | Kintaus | FI | 6-5-2 |
| FUNDIA | Smedjebacken | SE | 6-6 |
| LIEPAJAS METALURGS | Liepaja | LT | 6-6 |
| TERÄSPEIKKO | Lahti | FI | 6-6-2 |
| | Dalsbrück | FI | 6-7 |
| DDS | Fredriksvaersk | DK | 6-8 |
| COMPANIA ESPANOLA DE LAMINACION S.L. | Castellbisbal | ES | 7-1-3 |
| REDONDOS PREFORMADOS | Zaragoza | ES | 7-1-4 |
| MEGASA SIDERURGICA S.L. | Naron la Coruna | ES | 7-1-7 |
| NERVACERO | Valle de Trepaga | ES | 7-1-8 |
| Transformados Huevar | Sevilla | ES | 7-2 |
| ArcelorMittal Gipuzkoa | Zumarraga | ES | 7-2-2 |
| CELSA ATLANTIC | Larancha | ES | 7-2-3 |
| CORRUGADOS LASAO S.L. | Azpeitia | ES | 7-2-9 |
| Roldan | Ponferrada | ES | 7-3 |
| Siderúrgica Balboa | Jerez de los Caballeros | ES | 7-3-1 |
| SN Maia - Siderurgia Nacional S.A. | San Pedro de Fins | ES | 7-3-2 |
| SN Seixal | Seixal | ES | 7-3-4 |
| Metalurgica Alavese Mallas | Vitoria | ES | 7-3-5 |
| FAPRICELA | Ança | ES | 7-3-8 |
| SIDERURGICA SEVILLANA | Alcala de Guadaira | ES | 7-4 |
| ArcelorMittal | Zaragoza | ES | 7-4-2 |
| CELSA | Castellbisbal | ES | 7-5 |
| SN Transformados | Seixal | PT | 7-6-2 |
| CORRUGADOS AZPEITIA S.L. | Azpeita | ES | 7-7 |
| Megasider | Naron | ES | 7-9 |
| HABAS | Izmir | TR | 8-1 |
| HABAS | Aliaga - Izmir | TR | 8-1 |
| DILER DEMIR CELIK | Gebze-Kocaeli | TR | 8-1-1 |
| HALYVOURGIKI | Eleusis | GR | 8-1-2 |
| Izmir Demir Celik | Izmir | TR | 8-1-3 |
| Akdemir Celik Sanayi | Aliaga - Izmir | TR | 8-1-4 |
| SIDENOR | Thessaloniki | GR | 8-1-4 |
| HELLENIKI HALYVOYRGIA | Attica | GR | 8-1-5 |
| Nursan Celik Sanayi Ve Haddecilik | Hatay | TR | 8-1-6 |
| Nursan Metalurji Endustrisi | Hatay | TR | 8-1-7 |
| EKINCILER Iron and Steel Ind. Inc. | Iskenderun | TR | 8-1-8 |
| HALYVORGIA THESSALIAS | Velestino | GR | 8-1-8 |
| Yazici Iron & Steel | Iskenderun | TR | 8-2 |
| Ege Çelik End.San.TIC.A.S. | Izmir | TR | 8-2-1 |
| Yesilyurt Demir Celik Endustrisi | Samsun | TR | 8-2-2 |
| SOVEL S.A. (SIDENOR Group) | Almyros/Magnissia | GR | 8-2-4 |
| KOLAKOGLU | Istanbul | TR | 8-3 |
| Osman Sonmez Insaat Taahhut Ticaret | Izmir | TR | 8-3-1 |
| ICDAS | Ikitelli | TR | 8-7 |
| ICDAS | Biga - Canakkale | TR | 8-7 |
| EL FOULADH | Menzel Bourguiba | TN | 9-0-1 |
| Byelorussian Metallurgical Company | Zhlobin | BY | 9-1 |
| YAZIGI DEMIR CELIK | Iskenderun | TR | 9-1 |
| DILER DEMIR CELIK | Gebze-Kocaeli | TR | 9-1-1 |
| Emirates Iron Steel Factory | Abu Dhabi | UA | 9-1-2 |
| Cebitas Demir Celik End AS | Izmir | TR | 9-1-2 |
| AL-TUWAIRQI | Damman | SA | 9-1-3 |
| Alexandria National Iron and Steel | Alexandria | EG | 9-1-4 |
| Al Ezz Steel Rebars | Sadat City | EG | 9-1-5 |
| CELSA | Ostrowiec | PL | 9-1-6 |
| JSCC Moldova Steel Works | Rybnitsa | MO | 9-1-7 |
| Cape Town Iron and Steel works | Cape town | ZA | 9-1-8 |
| EKINCILER Iron and Steel Ind. Inc. | Iskenderun | TR | 9-1-9 |
| SICARTSA | Lázaro Cárdenas | MX | 9-2 |
| KURUM INTERNATIONAL | Elbasan | AL | 9-2-0 |
| ACIA SUD | Sfax | TN | 9-2-1 |
| HABAS | Aliaga - Izmir | TR | 9-2-1 |
| PJSC ARCELORMITTAL | Kryvyi Rih | UA | 9-2-2 |
| CMC Zawiercie | Zawiercie | PL | 9-2-4 |
| Qatar Steel Company | Mesaieed | QA | 9-2-5 |
| ZWM | Slawkow | PL | 9-2-5 |
| Ductil Steel Mechel | Buzan | RO | 9-2-6 |
| KAPTAN | Tekirdag | TR | 9-2-6 |
| Kroman Celik Sanayi A.S. | Gebze | TR | 9-2-9 |
| KOLAKOGLU | Istanbul | TR | 9-3 |
| NAT STEEL | Singapore | SG | 9-3 |
| ArcelorMittal | Kryviy Rih | UA | 9-3-1 |
| Hyundai Steel Company | Gyungsangbuk-Do | KR | 9-3-2 |
| SMM SOCODAM DAVUM | Casablanca | MA | 9-3-2 |
| Cebitas Demir Celik End AS | Izmir | TR | 9-3-3 |
| INTERMETAL | Tunis | TN | 9-3-3 |
| DOJRAN STEEL (SIDENOR Group) | Nikolic | MK | 9-3-4 |
| Jiangsu Shagang Group Co. Ltd. | Zhangjiagang City | CN | 9-3-5 |
| Qatar Steel Company FZE | Dubai | AE | 9-3-6 |
| Steel Asia Manufacturing | Bucalan | PH | 9-3-7 |
| KAPTAN | Tekirdag | TR | 9-3-8 |
| KAPTAN | Tekirdag | TR | 9-3-9 |
| Trinecké Zelezárny | Trinec - Star Mesto | CZ | 9-4 |
| PROMET STEEL | Burgas | BG | 9-4 |
| Ann Joo Steel Berhad | Prai Prenang | MY | 9-4-1 |
| Ann Joo Steel Berhad | Selangor | MY | 9-4-2 |
| Egyptian American Steel Rolling Co. | Sadat City | EG | 9-4-3 |
| Stomana Industries | Pernik | BG | 9-4-4 |
| ArcelorMittal | Zenica | BA | 9-4-5 |
| SHANDONG IRON AND STEEL COMPANY | Laiwu City | CN | 9-4-6 |
| Promet Steel | Bourgas | BG | 9-4-7 |
| Sharq Sohar Steel Rolling Mills | Sohar | OM | 9-4-9 |
| BMS | Manisa | TR | 9-5 |
| Conares Metal Supply Ltd | Dubai | AE | 9-5-6 |
| Muscat Steel Industries Co | Azaiba - Zeeb | OM | 9-5-8 |
| Universal Rolling | Kingdom of Muharraq, Hidd | BH | 9-5-9 |
| LIEPAJAS METALURGS | Liepaja | LT | 9-6 |
| Hamriyah Steel FZC | Sharjah | AE | 9-6-1 |
| Gulf Steel Industries | Abu Dhabi | AE | 9-6-2 |
| Geosteel LLC | Rustavi | GE | 9-6-3 |
| Emirates Steel Industries T/A Emirates Iron and Steel Company | Abu Dhabi | AE | 9-6-4 |
| ICDAS | Ikitelli | TR | 9-7 |
| Scaw South Africa | Gauteng | ZA | 9-7 |
| ICDAS | Bagcilar Istanbul | TR | 9-7-1 |
| ICDAS | Biga | TR | 9-7-2 |
| Jiangsu Yonggang Group Co. Ltd | Zhangjiagang City | CN | 9-7-8 |
| MITTAL STEEL | Sosnowiec | PL | 9-8 |
| Star Steel International | Sharjah | AE | 9-9-5 |
| Acciairie Valbruna | Vincenza | IT | AV |
| Acciairie Valbruna | Bolzano | IT | AV |
| CAVANNA SERGIO Trafilerie | Morsasco | IT | C |
| LAMINAR | Pisogne | IT | LV |
| UNIFER | Ceprano | IT | M |
| RODACCIAI | Bosisio Parini | IT | R |
| RODACCIAI | Bosisio Parini | IT | RO |
| ARES | Rodange | LU | Threaded profile |
| STAHLWERK ANNAHUTE | Hammerau | DE | Threaded profile |
North American procedure
The North American procedure enables to identify the producer and the grade, as follows: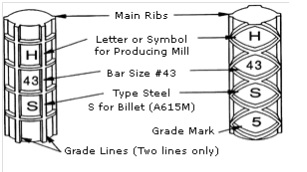 Useful links for indentification of reinforcing steels
Here are enclosed links to several certification bodies providing relevant information concerning rolling marks :