Description of an interlaboratory comparison
Description of an interlaboratory comparison
A proficiency test enables to evaluate the reliability of the services of your laboratory
A inter laboratory comparison (or proficiency test or PTP or round robin test) consists in testing the same samples by different laboratories and in comparing the results. Three different objectives can be pursued:
Validate a test method and determine the uncertainty of results, via the determination of the standard deviations of repeatability and reproducibility;
Determine the characteristics of a product intended for be used as a reference material;
Assess the reliability of the test results of the participating laboratories.
Inter laboratory comparisons organised by CompaLab pursue the latter goal: proficiency testing of laboratories. They provide to participants a way to fulfil the requirements of ISO/IEC 17025 § 7.7.2.
In practice, it consists in:
Sending to a sufficient number of laboratories a series of samples as similar as possible;
Running a series of tests by all participating laboratories;
Determining a reference value to be found for the test results;
Evaluating the difference between the results of each laboratory and the reference value;
And concluding a level of confidence in the outcome of the test.
The requirements for the organisation of the inter laboratory comparisons / round robin tests are different depending on the objective. These requirements are also described in three different international standards (see ISO 5725-2, ISO Guide 35 and ISO 13528 for proficiency tests).
Each participating laboratory may well know the difference between the test results it produces and the reference value ("the value which was to be found"). The results are transmitted to it confidentially. It is up to it alone to determine if an internal corrective action must be implemented.
More details concerning:
Why participate to an inter laboratory comparison ILC / PTP ?
What inter laboratory comparisons are proposed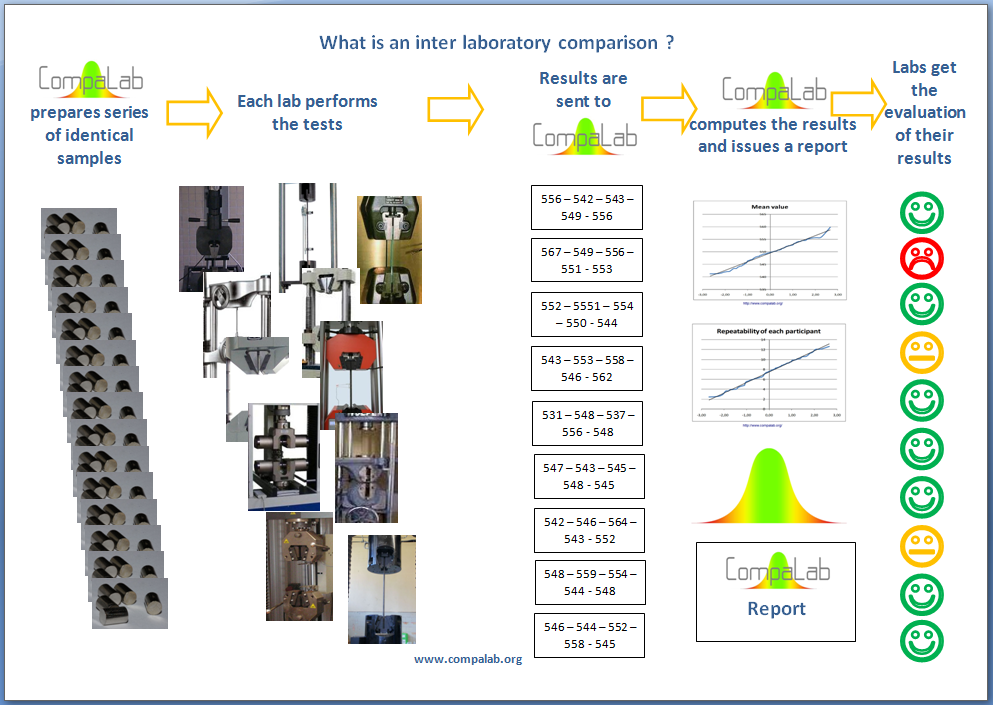 Example of verification of the norrmality of the distribution of mean value and repeatability of the results of participants.